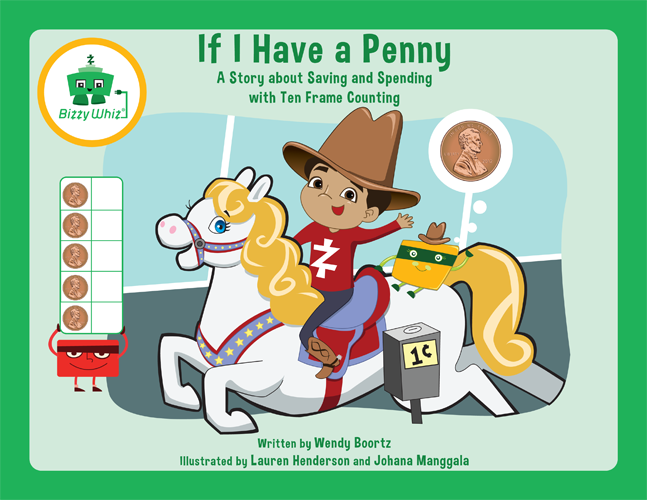 The Ideas behind the Story
We have choices about what we do with money.
If we save more and more money, we can buy larger and larger things.
Banks help us manage money.
Keywords: Saving, spending, financial literacy, banking, coin identification, coin counting, ten frames, delayed gratification, choices.
Book Specs
Pages: 32, Words: 427
Size: 11"W x 8.5"H
Book $12.99
Now Available through Sponsorship
"The book If I Have a Penny is very appealing for young children. It has bright colors, friendly characters and teaches valuable lessons. I can see this as a very valuable resource to teach financial literacy to young children pre-k through second grade. It's engaging, has sound teaching concepts, and is a fun book to look at."
The Story
A child enjoys fantasizing about the things he can buy if he saves larger and larger amounts of money. He also enjoys visiting the bank to exchange coins and open a savings account.
Bizzy Whiz characters illustrate saving and spending activities.
Ten frames illustrate coins growing from one cent to a dollar, offering opportunities to count by ones, fives, tens. and quartiles.
Individual pages offer opportunities for discussions on:
Gift-giving (sharing)
Donating
Goods versus services
Collecting for fun and profit
Buying and managing a business
Sports as a business