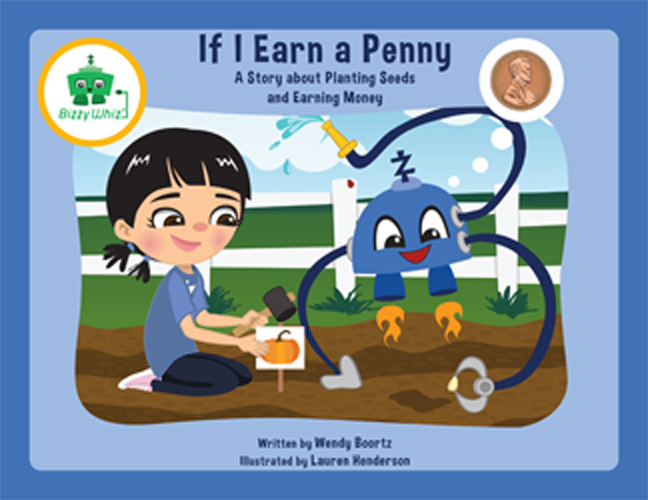 The Ideas behind the Story
We earn money by working hard.
We can create our own businesses.
Science and technology, along with agriculture and the food industry, offer exciting career opportunities.
Keywords: Earning, financial literacy, counting, creative thinking, farming, entrepreneurship, plant life cycle, robots, STEM careers.
Book Specs
Pages: 32, Words: 506
Size: 11"W x 8.5"H
Book $12.99
Sponsorship and Bulk Orders
What Educators Say:
"Young kids are going to get engaged! Love the graphics and bright colors. The book highlights use of modern technology and things kids can relate to. Delightful!" Susan J.
"There's so much in this book. It provides basics for all children in the class, and enrichment opportunities for those who want to go further." Cindy S.
"If I Earn a Penny talks to kids where they are. I like the way it builds from what the children see now to what they can become." Janine Y.
The Story
An enterprising girl, helped by an inventive robot, earns a penny for every seed she plants. Once the plants grow, she fantasizes about earning more money by using the crops to create businesses.
Plant the Seed poem teaches plant life cycles, and provides a metaphor for entrepreneurship, and for children growing to adulthood.
Math activities include earnings, product prices, and 100-item ten frame counting as well as counting the lady bugs hidden in the book.
Additional discussion opportunities:
Food stands and food trucks as a small business
Careers in scientific research
Use and role of machinery and robots in business
Giant taming: fight or offer kindness
Having a personal savings plan